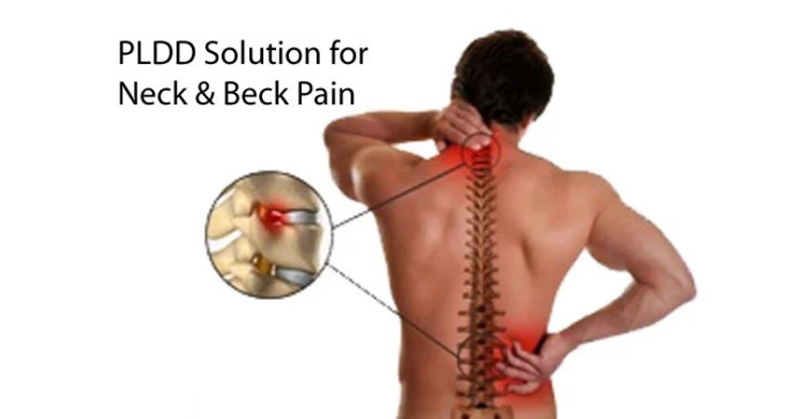 What is the PLDD?
Percutaneous Laser Disc Decompression (PLDD) is a new method for the treatment of cervical and lumbar disc herniation. The treatment process uses a thin optical fiber to emit pulsed lasers. Percutaneous laser disc decompression uses laser energy to hollow the diseased nucleus pulposus, reduce the pressure in the intervertebral disc, and relieve and eliminate the compression on the sciatic nerve or vertebral artery nerve. At the same time, the stimulation of nerves is increased, thereby improving the blood supply of the vertebrobasilar artery, thereby reducing the compression of the spinal nerve by the herniated disc, and achieving the purpose of treatment.
It can achieve the following therapeutic effects:
1. Use the high-energy local biological effects of the laser, that is, the effects of burning, vaporization, denaturation and coagulation to "remove" the protruding intervertebral disc nucleus pulposus.
2. Reduce the internal pressure of the diseased intervertebral disc, retract the herniated cervical and lumbar intervertebral discs, and relieve the compression of the spinal cord or nerve roots.
3. Restore the normal physiological functions of the human body, and eliminate the symptoms of waist and leg pain, numbness and motor dysfunction caused by the herniated disc of the patient.
Compared with other cervical and lumbar spine treatment methods, percutaneous laser intervertebral disc vaporization decompression is used in the United States, Britain, France, Germany, Japan, South Korea and other developed countries have become the first choice for the treatment of intervertebral disc herniation.
Our M2 with 980nm+1470nm is for Percutaneous Laser Disc Decompression. Nowadays, PLDD (percutaneous laser disc decompression) aims at the pathology of intervertebral disc disease and effectively relieves the disease. It is widely used in clinical practice.