Oral Mucosa is normally pink, although the color varies depending on location, function and underlying structures. Lips are an important part of our smiles; the shape and color are crucial elements of the lip's beauty.
The color of the lips normally varies from person to person depending on factors such as melanin production, skin color, vascularity, and dryness (dehydration) of the lips. Among these, the major factor contributing to the color of lips is melanin. Lip hyperpigmentation does not pose any medical problem, but usually considered unaesthetic and can affect the patient's social activities and self-confidence and patients are seeking solutions.
Etiology- The most common cause is physiologic i.e. hyper-melanin pigmentation. After ruling out any malignant changes, the Laser is used electively for removing pigmentation from the lips.
Treatment modality- Many techniques have been used for the treatment of lip depigmentation. Melanin pigmentation normally exists in the epithelial layer and might reach the basal layer, making these pigmentations superficial and easy to reach and eliminate. Lip melanin depigmentation techniques includes Cryotherapy, Pink tattoo, Photodynamic therapy, Chemical peeling and Topical medicated agents such as Vit. C, arbutin, hydroquinone, and liquid nitrogen
All these treatments results have different outcomes and adverse effects and esthetic results might not be satisfactory for the patients; however, lasers achieved good acceptable results esthetically and are tolerated by patients. PIOON Laser offers different wavelengths like 450nm, 810nm/980nm which can either be used in contact or non-contact manner to perform this procedure. In this case the patient was clinically examined, an informed consent was taken after complete explanation of the procedure, and all laser safety precautions were followed.  Anesthetic gel was applied on the lips of the patient. The patient was asked to open the mouth widely and the depigmentation process was carried out from the upper lip to the lower lip in a sequential clockwise manner. Wavelength of 980 nm was used in contact mode and the laser setting was 1 Watt in continuous mode.
Sana Farista in 2012 showed case reports where diode laser was used for depigmentation of lips in a successful manner. Also, Islam Kassem in 2016 published a case report that outlines a case that have been performed using mentioned laser parameters without any adverse patient reactions.
Rationale behind Use of Lasers Laser is absorbed by pigments in the soft tissue, thus making it an excellent hemostatic agent. It also has the advantage of easy handling of tissues, less chairside time, treatment finishes in single visit and property of potential decontamination and sterilization. 
Conclusion- Lip hyperpigmentation is an esthetic concern as it masks the overall appearance of the individual. The use of a diode laser was shown to be a safe and effective treatment modality to provide optimal aesthetics with reduced discomfort to the patients during the treatment.
Reference – Iyer VH, Farista S. Management of Hyperpigmentation of Lips with 940 nm Diode Laser: Two Case Reports. Int J Laser Dent 2014;4(1):31-38 and Islam Kassem et al. Lip Depigmentation (Pinkification) Using 810nm Diode Laser, Kassem's Protocol, Initial Case Report. Smile Dental Journal | Volume 11, Issue 2 – 2016.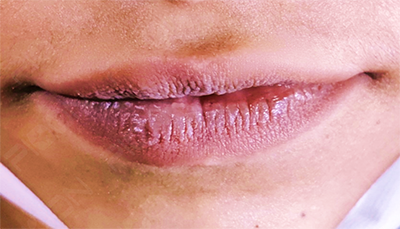 Preoperative View (Case Courtesy – Dr. Sana Farista)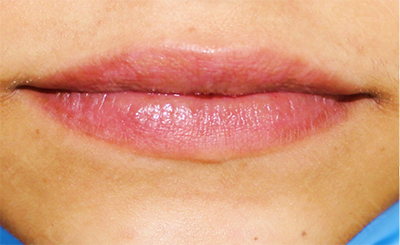 Postoperative View (Case Courtesy – Dr. Sana Farista)
Dr Rufi Patel
MDS Periodontist
Divas in laser