Introduction- Gingival troughing is the preparation of gingival tissue prior to taking impressions of teeth that have been prepared to receive a dental prosthesis. Fixed restorative dentistry success is dependent on the exquisite fit of restorations. When the restoration does not fit the prepared margins, recurrent caries as well as periodontal issues, such as chronic inflammation of the gingiva, will likely occur in time. Exposure of sub-gingival finish line, with adequate moisture control to capture the finish line details in impression, is the main goal of gingival troughing procedure.
Treatment modalities- Techniques such as mechanical and chemical methods have been followed for gingival retraction. Retraction cords and pastes have been available for many years to help dilate the sulcus, thus exposing the finish line for an optimal impression. These methods, are technique sensitive. With hemorrhagic tissue, removal of the retraction cord or paste may reinitiate bleeding, preventing the impression material from fully capturing the preparation margins. This becomes more problematic as the preparation margin is placed deeper in the sulcus (sub-gingival). 
However, lasers can be used as a substitute to conventional retraction techniques, because they provide adequate retraction along with hemostasis, with less working time and good patient comfort. 
In this case after tooth preparation, retraction procedure was carried out by passing non-initiated laser fiber tip, keeping it 1mm into the gingival sulcus in non-contact mode using wavelength of 980nm to facilitate accurate recording of finish line. Complete safety protocol was followed by patient, operating and assistant staff like using laser protective eye glasses. Highly reflective instruments were avoided while using lasers.
Almut Marsch in 2013 used wavelength 980nm, Dr. Kurtzman in 2017 used 810nm and NH Kamar Affendi et al in 2020 used dual wavelengths (810 nm and 980 nm) for gingival troughing and suggested that the use of diode lasers facilitates soft tissue management during impression making and serves as a valuable tool during the fabrication of accurate fixed prostheses.
Rationale behind Use of Lasers- Laser offers certain advantages such as lesser operating times and lesser collateral heat generation, with good hemostasis and patient comfort. Use of diode lasers for retraction purposes has shown less recession around natural teeth as compared to retraction cord with laser. Studies have also shown bacterial reduction at treatment site and improvement in gingival marginal health.
Conclusion – Taking into consideration the excellent clinical outcome, the diode lasers can be considered as a better and acceptable alternative for gingival troughing.
Reference – 
Almut Marsch. Use of a Diode Laser for Gingival Troughing in Conservative and Prosthetic Dentistry. International magazine of laser dentistry. 2013. 30-31 
Kurtzman GM, Agarwal T. Laser Troughing to Improve Scanning and Impressions. Dent Today. 2017 Jan;36(1):122-5. 
Kamar Affendi NH, Ahmad R, Vahidi F, Hassan MZ, Rahimi SN. The Integration of a Dual-Wavelength Super Pulsed Diode Laser for Consistent Tissue Ablation in the Esthetic Zone: A Case Series. Case Rep Dent. Vol 2020 Dec 3;2020.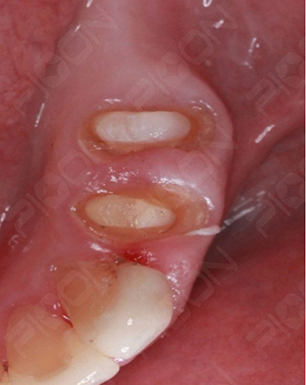 Pre-Operative View (Courtesy- Dr. Sana Farista)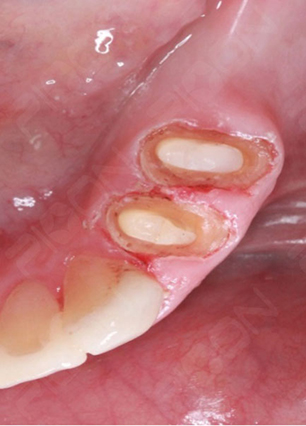 Post-Operative View(Courtesy- Dr. Sana Farista)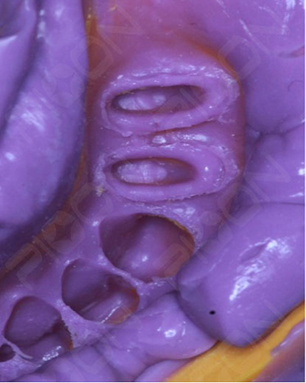 Impression after Laser Troughing(Courtesy- Dr. Sana Farista)
By – Dr. Rufi Patel
MDS Periodontist
Divas in Laser