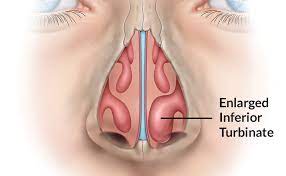 Diode Laser--One of the Effective and Economical treatment for ITH (Inferior Turbinate Hypertrophy)
Inferior turbinate hypertrophy is the most common cause of chronic nasal obstruction. When conservative medical treatment options fail in patients with inferior turbinate hypertrophy, reduction of the inferior turbinate can be performed using surgical techniques. Laser-assisted turbinate surgery can be took as one of that.
Many ENT experts/doctors have been studied on this for many years. And different lasers have been used to treat ITH, The studies results that Laser-assisted turbinate surgery causes limited submucosal scarring and obliteration of the venous sinusoids, shrinking the turbinate and relieving nasal obstruction. The diode laser is the most portable and lowest cost of the lasers available at present for endonasal treatment. The coagulating ability of the diode laser is more controllable in the deep layer of the turbinate. Diode laser light 980nm is absorbed primarily by water and blood and has excellent coagulating abilities. The coagulating capability of non-contact type of lasers is not as deep as that of other lasers, but working with proper fiber can ablate soft tissues without causing excessive collateral damage, which may help to avoid complications, especially in areas adjacent to the orbit.
Clinical researches observed that the success rates in diode laser-assisted turbinate reduction were satisfactory. They also observed that side effects of the diode laser were fewer than those with other laser. The side effects here means includes minimal bleeding, which did not require nasal packing, and nasal swelling that improved in a few days. The diode laser technology is the newest addition to the list for nasal applications, and being one of the most portable and lowest cost of the lasers available for turbinate surgery. All of these makes the diode laser possible for turbinate reduction to be performed under topical anesthesia within a short period of time with excellent patient acceptance.