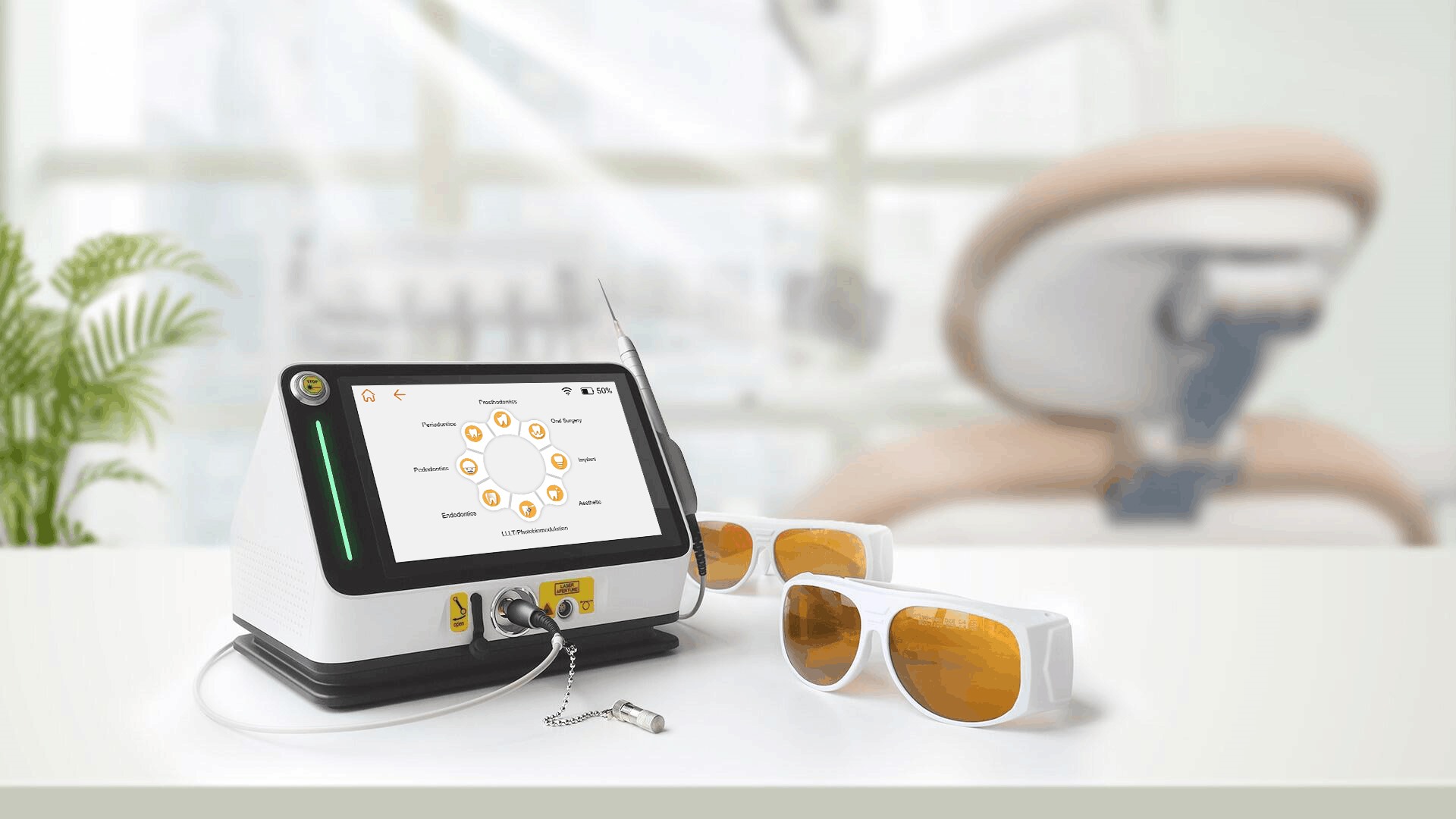 Dental Lasers
Mercury dental laser:
Portable unit design
·Ultra-compact body weighing just 2kg. Thus makes Mercury easy to carry.
Powerful software
·Wifi access -- quick feedback and more clinical videos in our website.
·Smart software allows for remote upgrades, and that means you always get the updated clinical protocols.
Easy to use Interface
·Just 5-6 clicks to start the operation.
·Specific user guidance in video.
Quick and Expert mode
·Quick mode: 45+ preset procedures helps doctors start operations instantly. Suitable for first-time and less-experienced doctors.
·Expert mode: Set and save your parameters at anytime. Suitable for laser masters.
Safe and precise treatment
·Each parameter in our procedures is demonstrated in our clinical practice.
·Continuous and Pulsed emission mode helps with more precised operation.
One laser device, two laser modules:
Mercury-Dual wave laser module(980/810nm+650nm)
Mercury-Dual wave is the most price-competitive dental laser module, and at the same time possesses the super-high quality. It is designed to be affordable to all the doctors so that they can enjoy the benefits of Pioon's new technology and bring better treatment to patients, and more reputations to their own clinics.
Mercury-Dual wave provides a variable range of dental applications. No matter in Oral Surgery,  Periodontics, Aesthetic, Orthodontics or Pedodontics... Mercury-Dual wave is versatile! According to the research, 650nm is demonstrated to be the most common and optimal wavelength in LLLT due to the best combination of depth of penetration (low absorption), cellular interaction and energy transfer efficiency. Therefore, Mercury-Dual wave opened up the power setting of 650nm wavelength to fully utilize its LLLT efficacy. Thus increases the treatment options in your practice.
Finally, Mercury-Dual wave, the most cost-effective laser module with excellent features, contributes to a fast return on your investment.
Applications:
Oral Surgery

LLLT(Low Level Laser Therapy/ Photobiomodulation)

Periodontics

Aesthetic

Orthodontics

Conservative dentistry & endodontics

Pedodontics