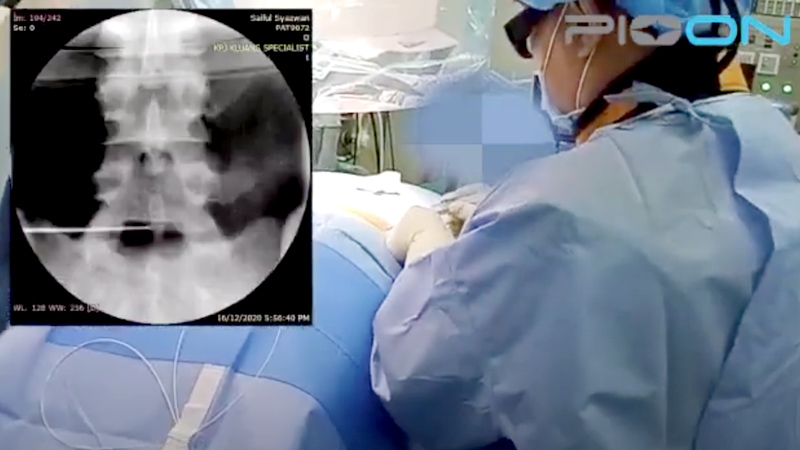 Orthopaedics (PLDD)
Orthopaedics (PLDD)
Compared with surgery, percutaneous laser decompression surgery is the least aggressive treatment (suitable for nucleus pulposus without prolapse of the outer layer). Pulsed laser vaporizes the protruding disc nucleus pulposus, reducing or eliminating nerve compression and stimulation.
The 1470nm with larger water absorption properties appears to have an effect on the entire nucleus pulposus and not only in surrounding tissue of laser fiber (carbonization zone). During PLDD, disc volume is minimally decreased, however, disc pressure can be significantly lowered. When using laser for disc decompression, a small amount of nucleus pulposus evaporates.
From the background information of PLDD and the results of 19 years of research, for patients with herniated disc pain and those who do not respond to traditional medical treatment, it strongly shows that PLDD is the successful and safe first choice for minimally invasive treatment.
How to complete the PLDD surgery with laser?
Use a spinal puncture needle to enter the diseased intervertebral disc (nucleus pulposus) through the skin, introduce a thin optical fiber through the puncture needle, and then activate the laser to vaporize part of the intervertebral disc nucleus pulposus.
The energy of the laser makes the diseased nucleus pulposus hollow, reduces the pressure in the intervertebral disc, relieves and eliminates the compression on the sciatic nerve or vertebral artery nerve, and will not cause damage to the peripheral nerve tissue.
After laser irradiation, the pressure in the intervertebral disc is reduced, and the nucleus pulposus will gradually be replaced by cartilage fibers.
According to experimental studies, it has been determined that the temperature of the laser vaporized intervertebral disc will not have a scorching effect on the intervertebral foramen (nerve foramen) or spinal canal.
The clinical advantages of PLDD Laser Treatment
The success rate is 70-89%.
The complication rate is mainly intervertebral discitis, which is 0.3-1.0%
The average time to resume normal activities is 1 week.
After 23 years of long-term follow-up, the recurrence rate is only 4-5%